MainStay Suites St. Robert – Fort Leonard Wood
Live Like Home
Welcome to the MainStay Suites St. Robert – Fort Leonard Wood a pet-friendly, extended stay hotel near Fort Leonard Wood, Missouri. Enjoy quality family time in your own space with all the benefits of a hotel, with apartment-style suites, fully equipped kitchens, and separate areas for relaxing, working and dining—just like home.
The MainStay Suites® extended stay hotel is ideally located with easy access to Interstate 44 and scenic historic Route 66 in St. Robert. Fort Leonard Wood is minutes away. Several museums and shopping opportunities are also nearby with a variety of restaurants to enjoy, many within walking distance of the hotel. Visitors can enjoy a wide variety of outdoor recreational activities like fishing, hunting, canoeing and hiking.
Local Attractions & Restaurants:
Uranus Fudge Factory and General Store
The Trail of Tears Memorial & Interpretive Walking Trail
Route 66
Military Police Corps Regimental Museum
U.S. Army Engineer Museum
U.S. Army Chemical Corps Museum
Restaurants:
Ocean Buffet (walking distance)
Cracker Barrel
Ruby Tuesday
Route 66 Diner
Panera Bread
Buffalo Wild Wings
Colton's Steak House
Full-service features and amenities include:
Commitment to Clean
Sanitation Stations
MarketPlace open 24 hours
Things I Use at Home (Lending Cabinet)
Sofa Sleeper in every room
Pet-Friendly ($15 per day / $75 maximum)
Gazebo with outdoor grill
Outdoor pool (seasonal)
Fully equipped kitchens
Weekly housekeeping service
Free laundry facility
Free continental breakfast (6 am – 9 am every day)
Free DirecTV with movie channels & sports channel
Free WiFi
Guests are invited to take advantage of the exercise room and our seasonal outdoor pool. Business travelers will appreciate access to copy and fax services and free WiFi. Residential-style studio rooms and all suites have full-size kitchens that include microwaves, refrigerators, coffee makers, sinks with disposals, dishwashers, cookware, dishes and utensils, desks, hairdryers, irons, ironing boards, sofa sleepers, and DVD players. In addition, DVD movies may be checked out (free of charge) at the front desk. This is a pet-friendly hotel; fees apply. Free guest laundry facilities are located on the premises for added guest convenience.
Whether traveling to the Fort Leonard Wood area for business or pleasure, MainStay Suites hotels let you enjoy apartment-like living with all the comforts of home at affordable prices. We look forward to seeing you soon.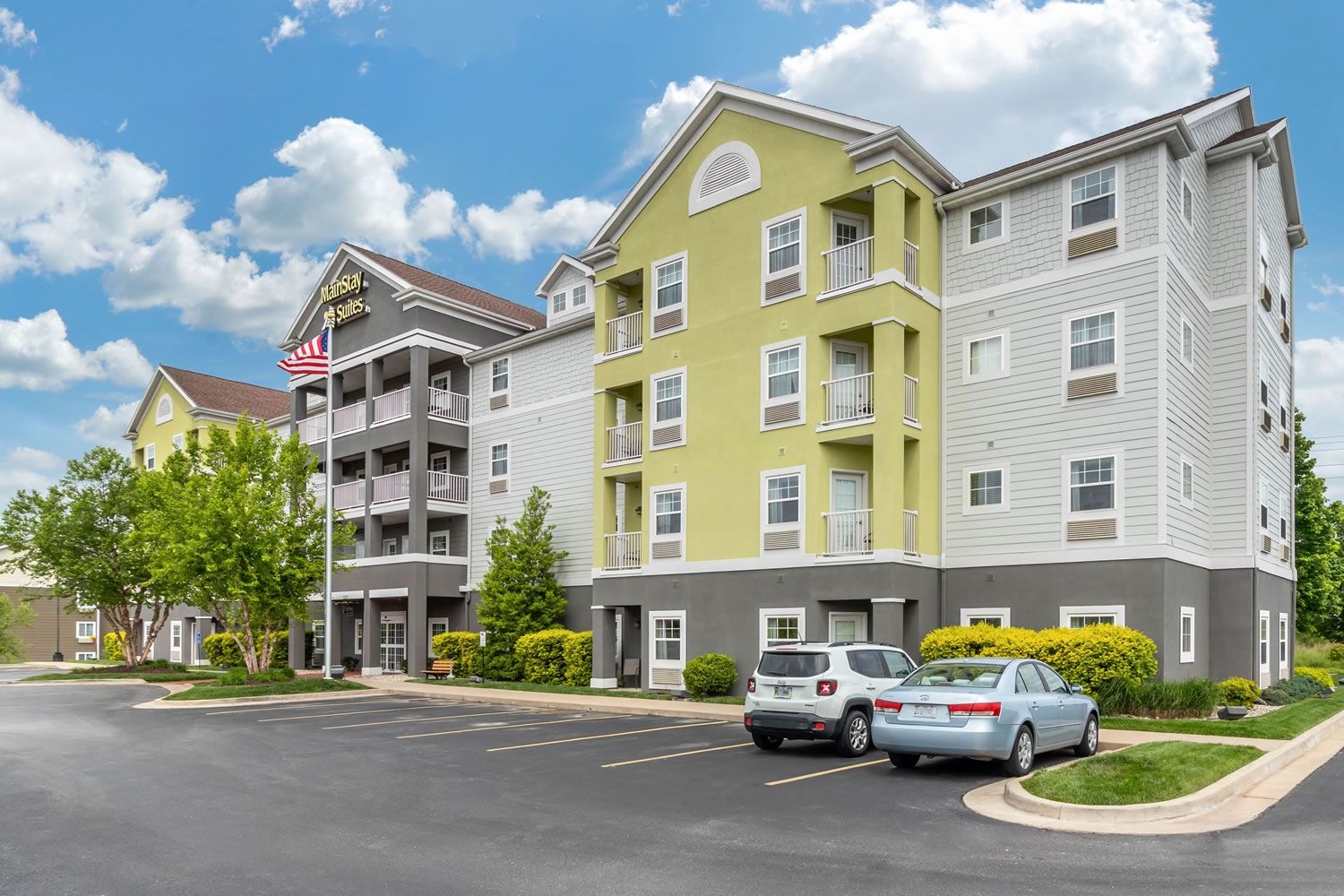 Hotel Amenities Include
Free WIFI • Complimentary Continental Breakfast Daily • MarketPlace Open 24 hour • Free Guest Laundry • Lending Cabinet • Non-Smoking Hotel • Seasonal Outdoor Pool • Gazebo/Grill/Seating Area • Fitness Room • 100% Satisfaction Guarantee • Fax/Copy/Email Services • Business Center • Children Under 18 Stay Free • Discount Rates: AA/AARP/Gov't • 24 Hour Desk Service • Free Local Phone Calls
Room Amenities Include
Refrigerator • Microwave • Coffee Maker • Toaster • Dishes/Utensils • Stove To • Iron & Ironing Board • Business Desks • Data Ports • Suites • Some Balcony Rooms • King & Queen Size Beds •  Windows Open • 32" Cable Flatscreen TV • Free Premium Channels• Handicap Accessible Rooms
What Our Guests Are Saying
---
"We have been Choice Privilege members for 13 years and this is the first time staying at a Main Stay. We would highly recommend this hotel. The hotel was very clean. Room was great. Beds were very comfortable. The staff was very friendly and helpful. We would definitely stay here again."
"From check in to departure it's always an awesome stay here. They have always helped me with any problems or questions that arise. I judge my motel from the time I pull in and view the outside, then the entrance, and finally the room, this motel rates high on all. I travel a lot and depending on where I'm at I always get a reality check on how nice this motel is, and that's why I return. To Belinda and all the staff thank you for all the wonderful stays you provided over the years!"
"Excellent service and wonderful for extended road trips! The staff here were so friendly and supportive! I stayed here while relocating cross country and I was easily able to park my U-Haul and trailer, as well as utilize the full-size fridge for all of my food and freezer packs. They are also very pet friendly which was so helpful with my two cats!"
"Great stay. Great rooms especially for families, our room had two bedrooms and two bathrooms and a big balcony with four chairs and a small cart. Rooms are very clean and quiet. Pet friendly. Highly recommend."
"Very clean rooms. Comes with a full-size fridge, stove, microwave, coffee maker, real dishes, complimentary breakfast, ice maker in hotel, gym. Able to pay for room with porches and separate living room, bedrooms. Summer has outdoor pool. Staff were nice."
"The staff was phenomenal and knew what the local events were happening each day. They were all so friendly and were always helpful. The Mainstay is becoming more updated with better furniture, bedding, and kitchen supplies and anything that I needed to sign out was always available. They location felt safe, and all doors required key access during late hours. They made my 6 months stay in the area a great time."