Fairfield Inn by Marriott Fort Leonard Wood / St. Robert
Welcome Travelers! Enjoy peace of mind with our Commitment to Clean.
Fairfield Inn by Marriott guarantees a beautifully simple stay whenever you travel. We give guests the flexibility to work, rest and maintain momentum on the road. Whether you are traveling for business or pleasure, you can kick back and move at your own pace. Spacious guest rooms offer well-lit desks and the most modern amenities. Our convenient, FREE Breakfast is a great start for your day, and we have a convenient Corner Market with snacks, quick meals, and personal items available. Keep up with your workout routine by swimming at our indoor pool. Use cardio equipment and free weights at our fitness center.
At Fairfield Inn by Marriott, you are our #1 priority. We promise you will be satisfied, or we will make it right. That is our commitment. Come experience true hospitality in the Ozarks – Conveniently located 2.5 miles from Fort Leonard Wood.
Please note: Hotel renovation from December 19, 2022, to April 30, 2023. The lobby, fitness center, indoor pool, and guest rooms will be impacted during this time.
Amenites
NEW Mobile Key
NEW Mobile Check In
NEW Guest Room Entertainment. Feel at home streaming your shows in the comforts of your room.
NEW Video on Demand. Enjoy premium movies on demand while you stay.
NEW Guest Laundry
Easy access from I-44
Indoor Pool
Outdoor Patio conveniently located outside of the pool area.
Corner Market available in the hotel with snacks, quick meals, drinks, and toiletries
Restaurants
Cracker Barrel, Ruby Tuesday's, The Route 66 Diner, and Mama Mia Authentic Mediterranean are in walking distance
Attractions
Uranus Fudge Factory at the next exit
Canoeing
Fishing
Caving
Walmart within walking distance
Fort Leonard Wood only 2.5 miles
Distance to airports
St. Louis Lambert International Airport (STL) 134 miles
Springfield-Branson National Airport (SGF) 92 miles
Waynesville-St. Robert Regional Airport (TBN) 8 miles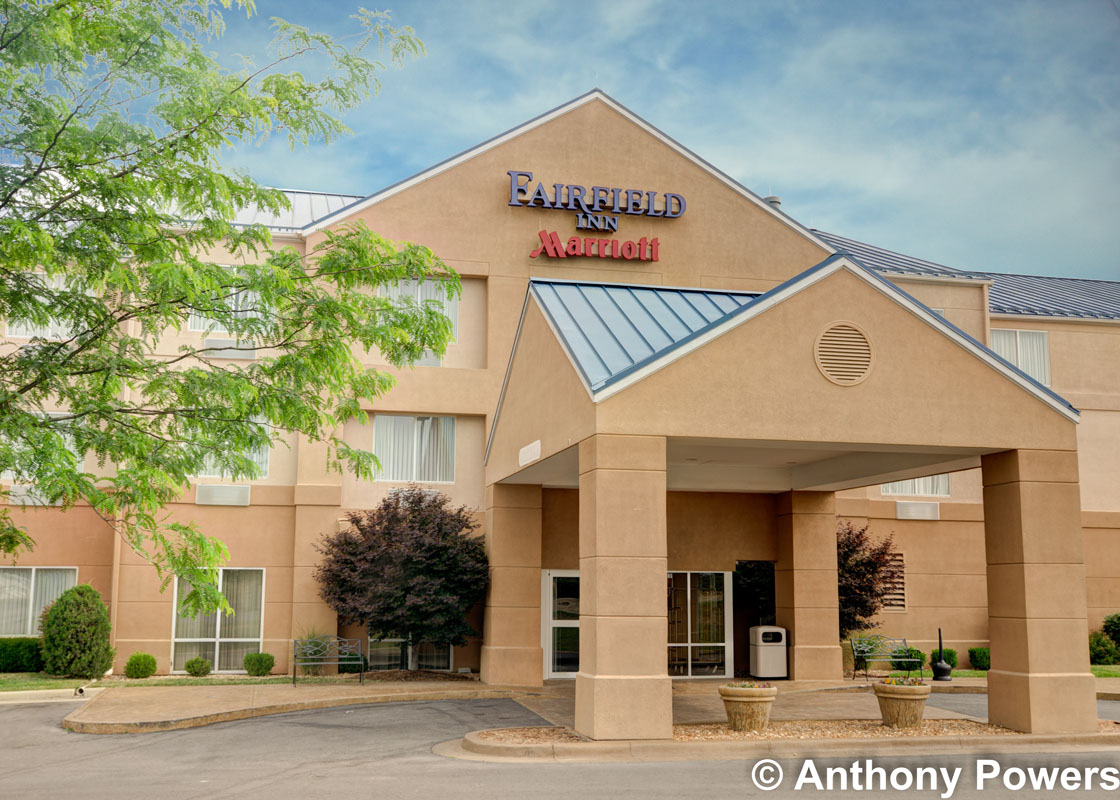 Enjoy a Relaxing & Comfortable Stay
We are also just a few minutes away from the Fort Leonard Wood Military Base and the Historic Charm of Downtown Waynesville Missouri. If you're feeling a little more adventurous, our hotel is about a 45-minute drive from the Lake of the Ozarks. Our hotel in St. Robert Missouri offers complimentary amenities such as Breakfast, Wireless Internet, and Parking as well as the exceptional service you expect and deserve from any Marriott brand hotel. Book your Stay at our friendly Fairfield Inn by Marriott Hotel in St. Robert Missouri today.
What Our Guests Are Saying
---
"My family and I have stayed at this hotel multiple times. This hotel is our favorite for several reasons:
There is a close proximity to the highway
The beds are very comfortable
The rooms are always clean
The breakfast has variety and is delicious
The staff will exceed expectations to make your stay very comfortable
There is a nice pool/fitness area
The prices are very affordable, for either dollars or Marriott points
The Wi-Fi is free and works well
There are a number of restaurants within walking distance.
We could not ask for a better hotel experience."
"I am a professional traveler. I continue to patronize this hotel after years because they have consistently maintained the welcoming hospitality that is unmatched in the area. I do not feel like a customer. Here at the Fairfield Inn, St Roberts, MO, I feel like "Family". Everyone in the hotel staff has the most friendly welcoming treatment… no matter if you just checked in… or if you're checking out. I travel the globe regularly and you simply don't encounter this type of hospitality in hotels. I have been using this hotel regularly for about five years now… and never had an experience that was less than wonderful."
"Staff was super friendly and the rooms were perfectly satisfactory. Nice to be able to stay at a Marriott in some of these smaller towns."
"We were in town for our son's graduation at Fort Leonard Wood army base. We had a fantastic stay at the Fairfield. The personnel were warm and gracious. Breakfast was delicious. Beds were very comfortable and the place was immaculate! Would definitely return!"
"The best hotel because of the people. The Fairfield Inn is without a doubt the best hotel to stay in St Robert and the reason is everyone that works there. The Management is so nice and the front desk staff are so friendly, there is no one there that wont say Hi to you and make you feel like family. The rooms are very comfortable and clean and the breakfast is so good. There is absolutely no other hotel where you can stay that has a better atmosphere in the area."
"Your service was incredible, the representatives were very polite and friendly. Keep up the great work you're doing for family members of our troops stationed at Fort Leonard Wood."
"I was in town for my sister's funeral. The entire staff could not have been nicer to all of us they were very accommodating and pleasant and caring. They went out of their way for us during this difficult time and it was very much appreciated."
"I am a hotel snob and honestly am very picky when it comes to hotels. I was a little worried before I booked this, BUT I couldn't find one thing wrong with my stay. I got the best 3 nights of sleep of my life!"
"This hotel by far was the best all around while we were on a 14 day vacation. The staff definitely left an impression on us, they really went all out to be friendly and helpful."
"The staff of the Fairfield Inn are like a family. Samantha, Ms. Roxanne, Amanda, Kristen, Codi, EVERYONE is family. They greet you when you walk in and will share a cup of coffee and a conversation. I miss them a lot.   Everyone that works at the St Robert Fairfield Inn are really the best you could ever ask for in a hotel to stay in. I will stay there just so I can see them all again and hang out with them to sit in the lobby, have a cup of coffee and chat. They are so amazing and the hotel is great because of them. I wish I could name them all but I wouldn't have enough room."
"This hotel is a great place for all you need when visiting Fort Leonard Wood base. It is located just outside the main gates and convent to stores and restaurants. The staff ensures you are comfortable and have everything you need. This is a great hotel. I have used this hotel over a dozen times and have never had an issue that was not addressed quickly. I highly recommend this hotel if you are TDY."
"It was super clean, I could make the room cool and dark, shower pressure was good and staff was sooo nice and attentive, and the location was GREAT! It was wonderful and I highly recommend it!"