MainStay Suites St. Robert – Fort Leonard Wood
Welcome to the MainStay Suites St. Robert – Fort Leonard Wood a pet-friendly, extended stay hotel near Fort Leonard Wood, Missouri.
The MainStay Suites® extended stay hotel is ideally located with easy access to Interstate 44 and scenic historic Route 66 in St. Robert. Fort Leonard Wood is minutes away.  Visitors can enjoy a wide variety of outdoor recreational activities like fishing, hunting, canoeing and hiking. Several museums and shopping opportunities are also nearby with a variety of restaurants and nightlife to enjoy, many within walking distance of the hotel.
Full-service features and amenities include:
Fully equipped kitchens
Weekly housekeeping service
Free continental breakfast (Every Morning)
Free DirecTV with movie channels
Free weekday newspaper
Free high-speed Internet access
Guests of this St. Robert, MO hotel are invited to take advantage of the exercise room and seasonal outdoor pool. Business travelers will appreciate access to copy and fax services and free WiFi.
All spacious guest rooms have full-size kitchens that include microwaves, refrigerators, coffee makers, sinks with disposals, dishwashers, cookware, dishes and utensils, desks, hair dryers, irons, ironing boards, sofa sleepers and DVD players. In addition, DVD movies may be checked out (free of charge) at the front desk.
This is a pet-friendly hotel; fees apply. Free guest laundry facilities are located on the premises for added guest convenience.
Whether traveling to the Fort Leonard Wood area for business or pleasure, the MainStay Suites hotel offers extended-stay conveniences at affordable prices. We look forward to seeing you soon.
227 St. Robert Blvd., St. Robert, MO 65584
573-451-2700 ❘ 800-4CHOICE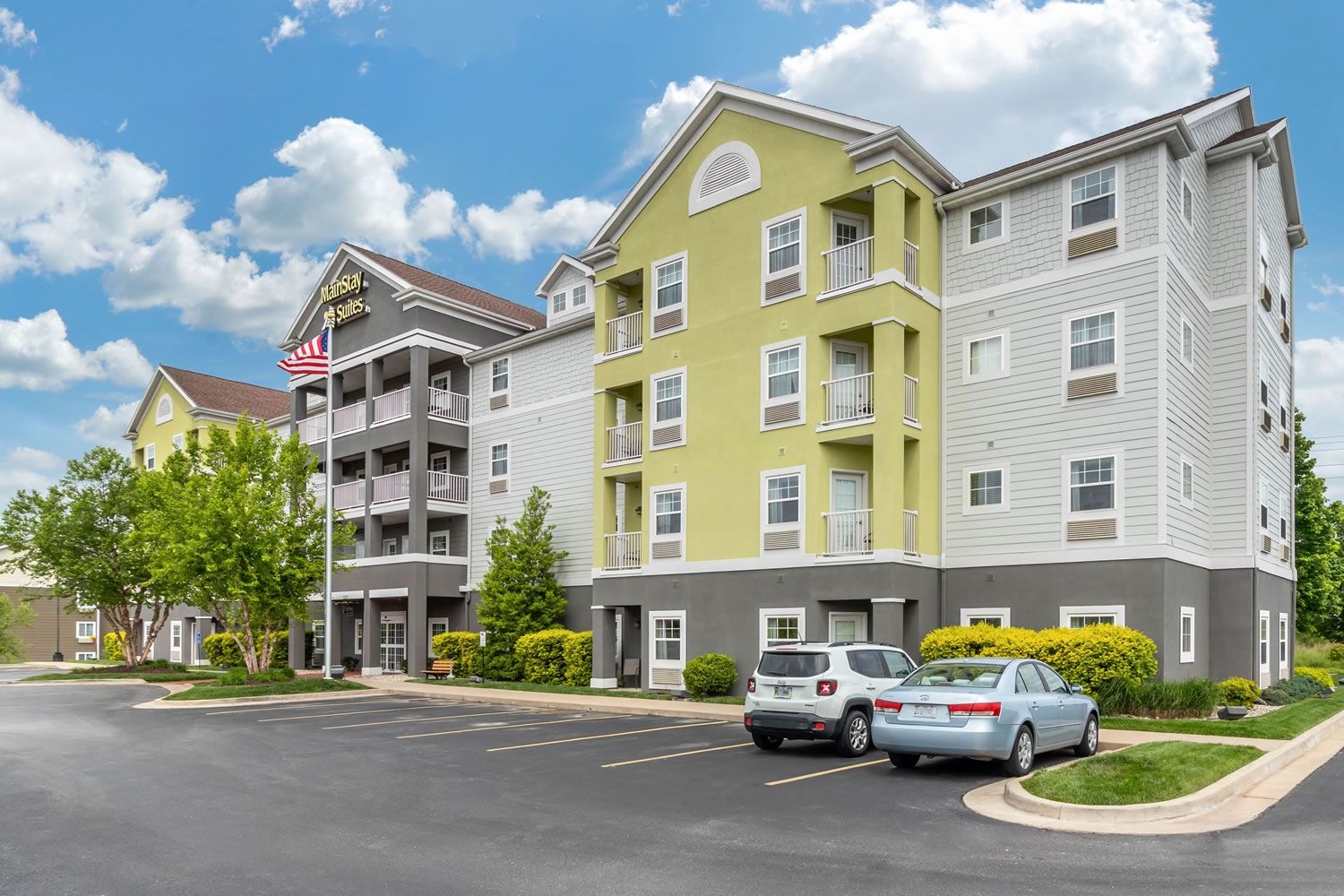 Hotel Amenities Include
• Free WIFI • Free High-Speed Internet • Complimentary Continental Breakfast Daily • Suites/Some Balcony Rooms • King & Queen Size Beds • Handicap Accessible Rooms • Non-Smoking Hotel • 32" Cable Flatscreen TV with Free Premium Channels • Seasonal Outdoor Pool • Fitness Room • All Rooms Equipped with Refrigerator, Microwave, Coffee Maker, Toaster, Dishes/Utensils, Stove Top,
Iron & Ironing Board • 100% Satisfaction Guarantee • Business Desks & Data Ports • Fax/Copy/Email Services • Free Guest Laundry • Business Center • Children Under 18 Stay Free • Discount Rates:  AA/AARP/Gov't • 24 Hour Desk Service • Free Local Phone Calls
What Our Guests Are Saying
---
"My company normally sets me up in one of the big brand hotels. However, due to graduations at FLW, my agent was only able to find vacancy at MainStay. Having had issues with a Choice Hotel prior, I was hesitant. However, my stay at this MainStay blew away my expectations. The room was very clean, requests were fulfilled in a timely matter, and the pantry was very convenient. I got food poisoning on my trip and the pantry had everything I needed to survive.
Employees that are worth commending include Jerry, Joseph, and Nick…as well as the two lovely blonde ladies. I had no issues with my stay at MainStay. My coworkers and I all agreed that the MainStay Suites at FLW is a great choice for hotel when we have business in the area."
"Highly recommend 2-bedroom suite for families. Balcony adds extra space to hang out"
"We met friends for a long weekend in St Robert, MO. This hotel is pet friendly (main reason we made our reservation there) and was absolutely wonderful! It smelled clean, rooms were terrific, and the front desk staff were friendly and very helpful as we didn't know the area well. I cannot be more satisfied because the hotel price, including tax, was well below what I was expecting and the facility and staff were great! We will definitely recommend and stay here again. St Robert is the halfway point between Oklahoma and Indiana."
"The hotel was a great fit for our week-long stay. The efficiency suites were clean and gave us more room than a regular hotel to accommodate the needs of home. It was a great location and easily accessible to many restaurants and shopping opportunities. Their outside pool was already closed for the season but they issued passes to a nearby hotel for use. Staff was very friendly and provided exceptional customer service."
"Everything was just perfect. Our grandson just joined the Army so will be making quite a few trips down your way, and to find the best hotel on the first trip is amazing. We will be back. Just a note. We saw 2 silverfish in the bathroom of our room. 417.. Don't think there an issue, but wanted you to know.. as we will want that room on future visits. THANK YOU FOR A GREAT VISIT"
"My company regularly travels to St Roberts to do work for Fort Leonard Wood. We have stayed at almost every major hotel down there and the Mainstay Inn is hands down the best. The staff are some of the friendliest and most accommodating of any hotel we've stayed at and are always willing to work with us and make our stay as comfortable as possible. The rooms are spacious and relaxing and provide a home away from home when we're on the road. Would recommend that this hotel be your first choice if you need to stay in the area."