Liberty Lodge St. Robert / Fort Leonard Wood
CALL NOW FOR SPECIALS!
573-336-3121
AFFORDABLE LODGING IN FORT LEONARD WOOD!
Welcome Families For Military Graduations!
The Liberty Lodge is the right choice for visitors who are searching for a combination of charm, modest rates, and convenient location to explore the St. Robert/Fort Leonard Wood area.  It is a cozy, comfortable hotel located right on the Historic Route 66 near Fort Leonard Wood.  Liberty Lodge originally opened as a Ramada Inn in 1959, and is one of the last original hotels on Route 66 in St. Robert Missouri.  You will be delightfully impressed with our notable '66 rooms on Route 66', all modern, clean and comfortable rooms making us the best stop on the Mother Road.
Located at the St. Robert/Fort Leonard Wood exit off of I-44.  Just 5 minutes from the front gate of Fort Leonard Wood, Liberty Lodge provides our guests with all the comforts of home combined with superior guest service.   The desk staff is at your disposal for directions and activity suggestions.   Our great rates and great location make us a favorite for Families visiting for Military Graduations at Fort Leonard Wood.
Enjoy our convenient amenities:
Pet Friendly (fee applies)
Discounted Breakfast Bucks Available
Smoking Rooms Available
FREE WiFi
FREE DirecTV
In Room Micro/Fridge
Daily Housekeeping
FREE Laundry
FREE Parking
FREE Drive up parking
Our convenient location also makes us an ideal choice for those who want to stay close to all key destinations and eateries or grab a drink, entree or snack from our fully stocked Canteen where you can use your Breakfast Bucks. Take the Family to Buffalo Wild Wings (next door) and save money, 15% off the entire meal with your keycard!  Breakfast is served early at Panera Bread which is within walking distance.  Get a kick out of the Route 66 Diner with its nostalgic atmosphere and jukebox.  Many other choices are available, just ask our front desk staff for recommendations.
We hope that you will visit us soon! Please call or email us today to book your room.
140 Old Route 66, St. Robert, MO 65584
573-336-3121 ❘ Liberty@FortWoodHotels.com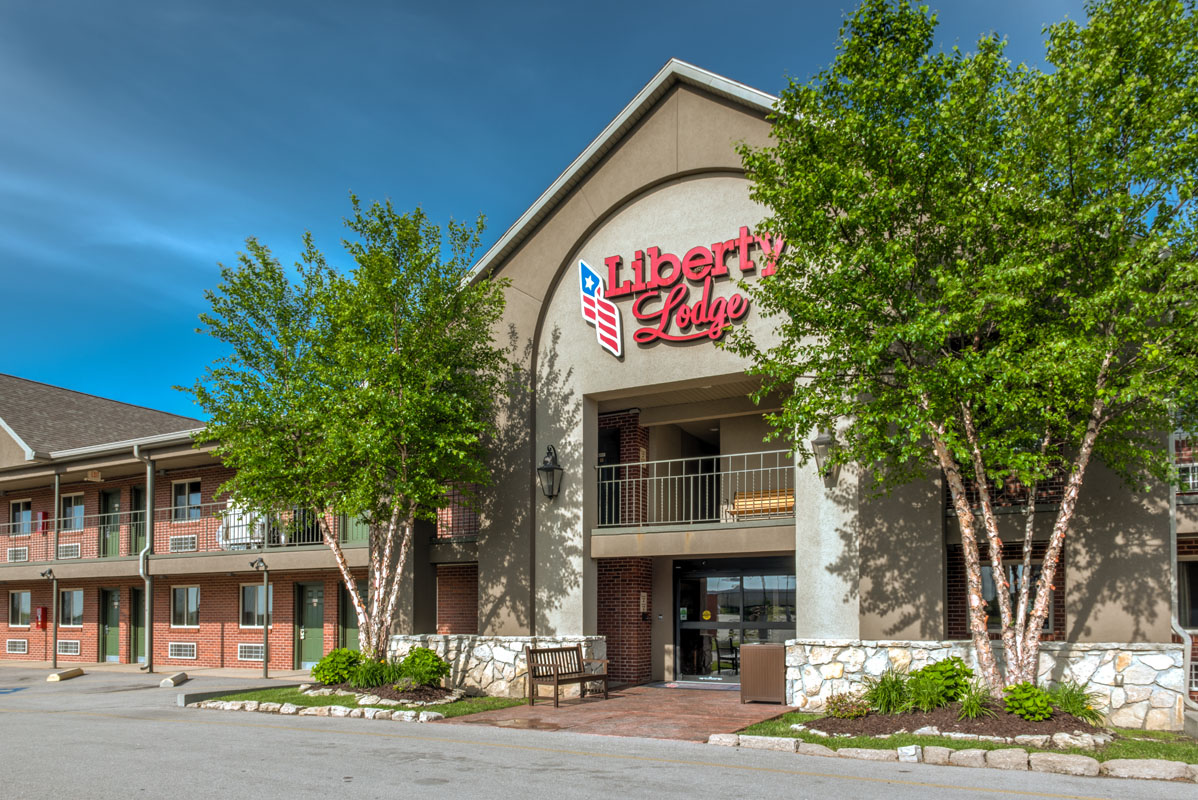 Hotel Amenities Include
Free WiFi * Free Guest Laundry * Onsite Snack Shop "Canteen" * In-Room Microwaves * In-Room Refridgerators * 24 Hour Front Desk * Spacious Guest Rooms* Connecting Rooms Available * Kitchens Available * Free Business Center
Safe travels and until we meet…
Welcome to the Liberty Lodge in St Robert Fort Leonard Wood Missouri!  Our staff is excited to have you with us!  We are proud to be privately owned and operated.
Our goal is to provide you with a wonderful experience while visiting with us.  We strive to offer the extras you look for in a hotel without the extra charges.
We are located on Historic Old Route 66 and just off Interstate 44.
While visiting us we will be available 24 hours each day to help you with all of your travel needs.  We understand how difficult it can be when you traveling and we extend our hotel to you as your home away from home.
What Our Guests Are Saying
---
"Stopped here on our way to Arkansas for a week of riding. Staff was excellent, price was great. There are restaurants within walking distance and fuel right around the corner. Easy on and off the freeway."
E. Upstrom
"As needing a hotel to stay at long term I believe I have found a great place to stay for my little one and I. All the employees have been extremely helpful and friendly with my stay here. Liberty Lodge has so far been the best hotel I have stayed at in a while. The canteen they have next to the lobby is very convenient, whether it's just a quick snack or a drink, it is always stocked."
Martha E
"Come to visit my son stationed at the Army base. The price was a steal of a deal. The room was clean, had DirecTV & comfortable beds. Loved the staff! By the time I arrived to the hotel it was close to 2 am. The lady at check in was very helpful and knowledgeable about the base & restaurants. Really enjoyed my visit with my son & I look forward to visiting again in the future."